A Turn-Based Rôle-Playing Game for the Atari 2600
The land of Syrex is a dangerous place. Fierce monsters roam the countryside. But luckily for you, you're a Grizzard handler!
Train your Grizzard to use a variety of Moves to take on the monsters. Discover new kinds of Grizzards with new capabilities. Can you conquer all the monsters of Syrex?
In the Grizzards videogame, you'll roam the land looking for monsters. Monsters may surprise you as you travel, or you may see them coming. When faced with terrifying beasts, you'll direct your Grizzard to use its Moves to defend you and attack the monsters.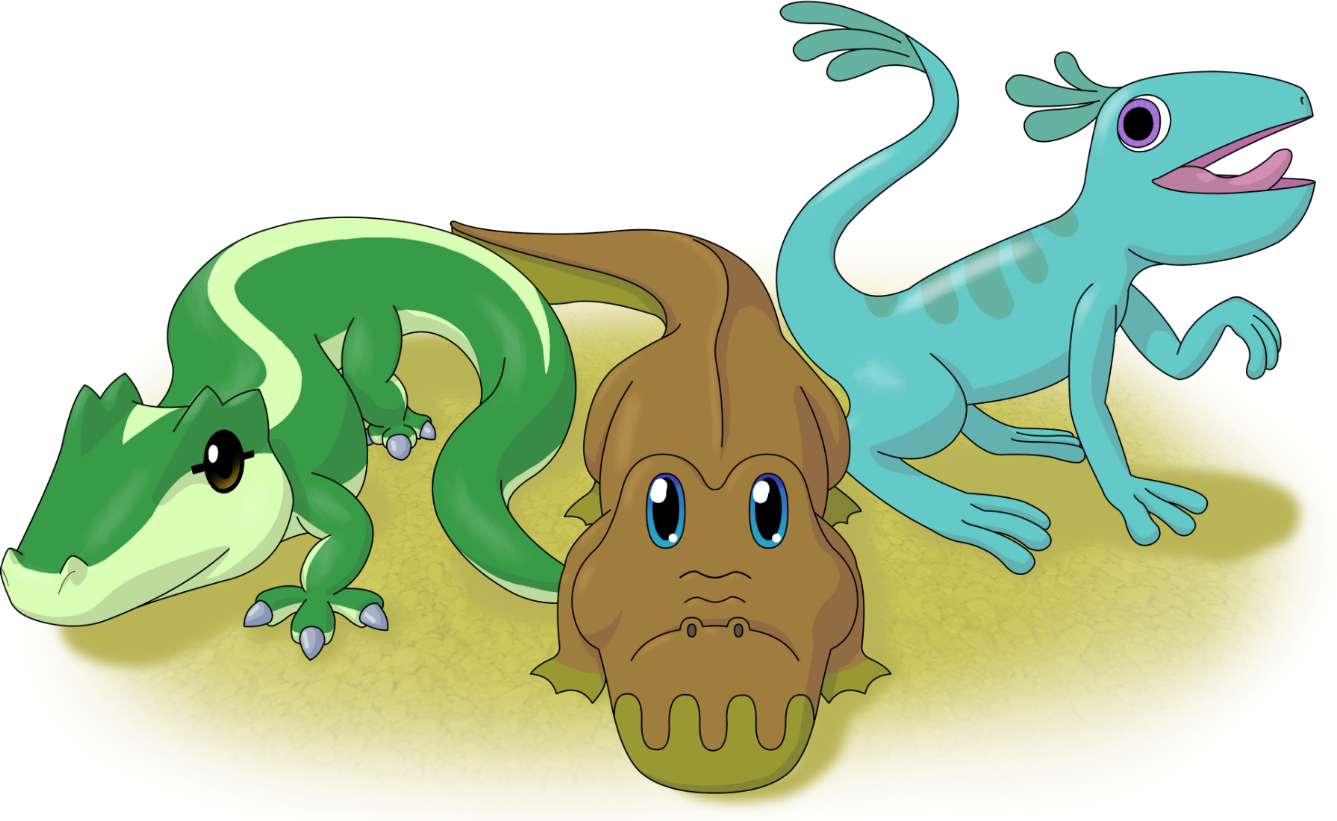 Grizzards is available from the
online store. (You can also download and try out demos for free, look below.)
Features
Choose Dirtex, Aquax, or Airex as your Grizzard companion
Explore over 200 screens in the world of Syrex
Save your adventure's progress with the unique save to cartridge technology
Meet more than 30 distinct characters, each with their own story to tell
Catch 30 unique Grizzards, each with their own ability scores and Moves
Train your Grizzard moves by observing monsters in Combat
Metamorphose your Grizzards into more powerful forms
Defeat over 80 kinds of monsters in combat
Discover the secret of who is behind the invasion of monsters
Enjoy unique musical themes as you explore Syrex
Hear full narration of all combat, as well as all in-game dialogue with an optional AtariVox device
Awards / Reception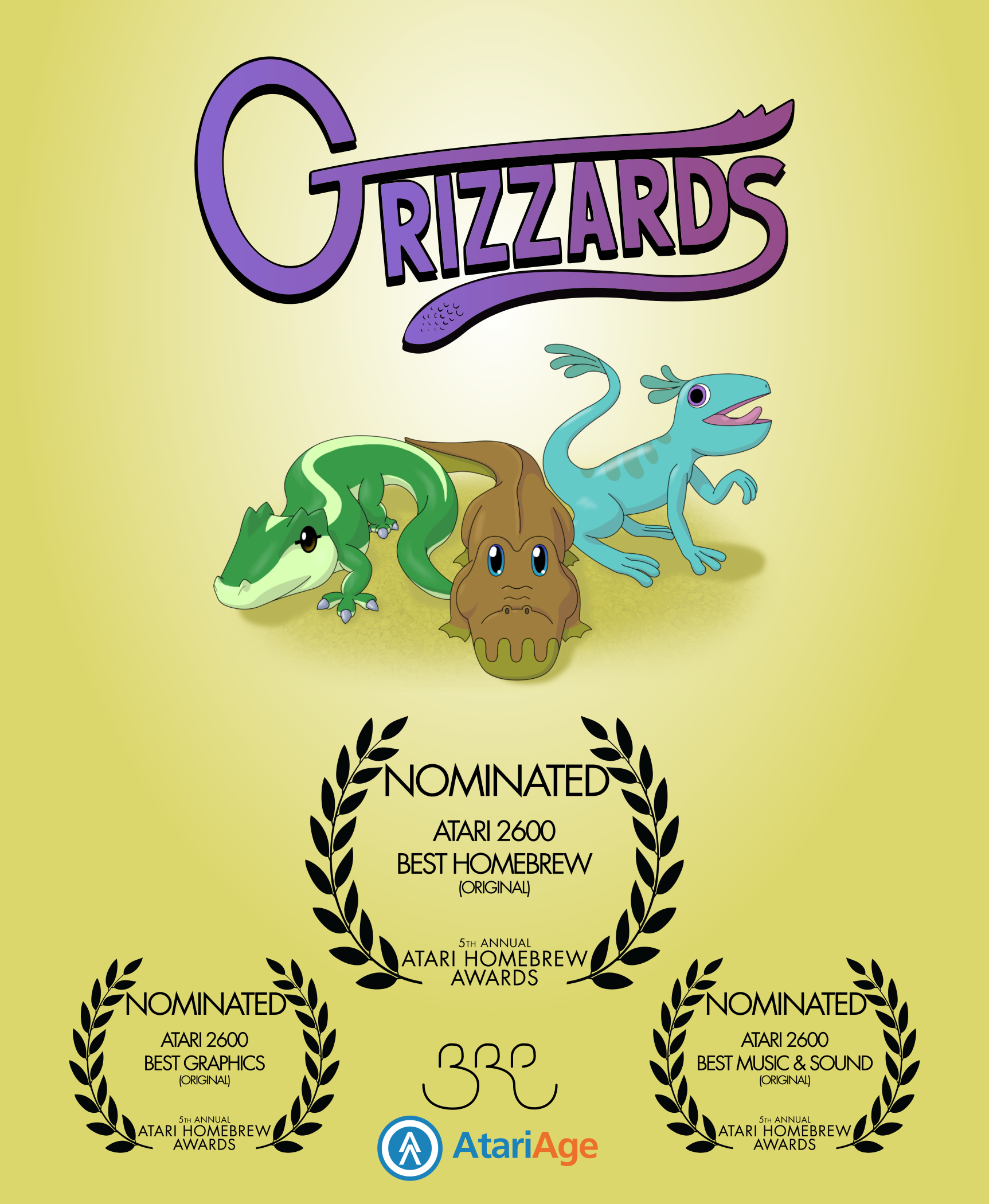 Grizzards was nominated for the 5th Annual Atari Homebrew Awards (covering 2022 releases), in the categories Best Homebrew (Original) for Atari 2600, Best Graphics (Original) for the Atari 2600, and Best Music & Sound (Original) for the Atari 2600. While we did not win, it was an honor to be nominated.
Reviews and Mentions
So far, all our reviews seem to be on YouTube :)
Game
Grizzards is available from the
online store. Packages include a professional box, 64k ROM cartridge with 2k EEPROM to record up to 8 players' progress, a 20-page full-color manual, and a printed map card with quick reference graphic on the back.
Download for Atari 2600
If you have a Harmony Encore cartridge, UnoCart, or PlusCart, you can download the Grizzards files here. Place the a26 file on your SD card (for Harmony Encore or UnoCart) or in your PlusStore network folder (for PlusCart) to play.
Play on Android
If you have an Android device, you can download RetroArch here and the Grizzards files here. Ensure that both the a26 and pro files are in the same folder and open the a26 file with RetroArch. Currently, you must use the RetroArch Save State feature or your save game file will be erased when you quit playing.
AtariVox
With an AtariVox, Grizzards has full combat and dialogue narration. Enjoy the retro vibes of the AtariVox's speech synthesizer with Grizzards and other Atari games. You can purchase an AtariVox+ from the
online store now.
Joy2b+
Grizzards supports Joy2b+ controllers, which give retro games three buttons for controls. You can buy (or build) Joy2b+ controllers from a variety of places, including this option from RetroGameBoyz.
Merch
The Grizzards merchandise store is being relocated.
Need Help?
Contact support@star-hope.org if you need assistance with the game.
For questions about purchasing Grizzards, please contact
directly. Note that, as with any hand-crafted high-technology, order fulfillment may take a little time.